This is just a sampling of what I have coming for Valentine's Day. Actually, these ideas could be used any time of the year when you want someone special to know that you are thinking of them.
Chocolate Lovers Type Fusion of lemon, orange, bergamot and mandarin, lily of the valley and coriander emerged with unmistakable notes of sweet chocolate, along with warm vanilla and musk.
Remember, these are carb free and calorie free. :)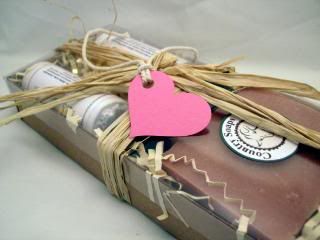 Gift boxes of all kinds are being loaded into my shops.
Hyenacart
has them all listed together. My
friend
made the hang tags for me. Fragrances to look for or watch for are Sinfully Hot, Victorian Rose, Chocolate Amber, Chocolate Lovers Type and others.
Another fun thing is every order you also get something for "you". These cute little 1 oz. heart soaps (colors and fragrances vary) will be included. Also, because the Packers are going to the Super Bowl double the free samples. For every $5 spent you'll get one of these cuties instead of every $10. While supplies last. No code or coupon needed.